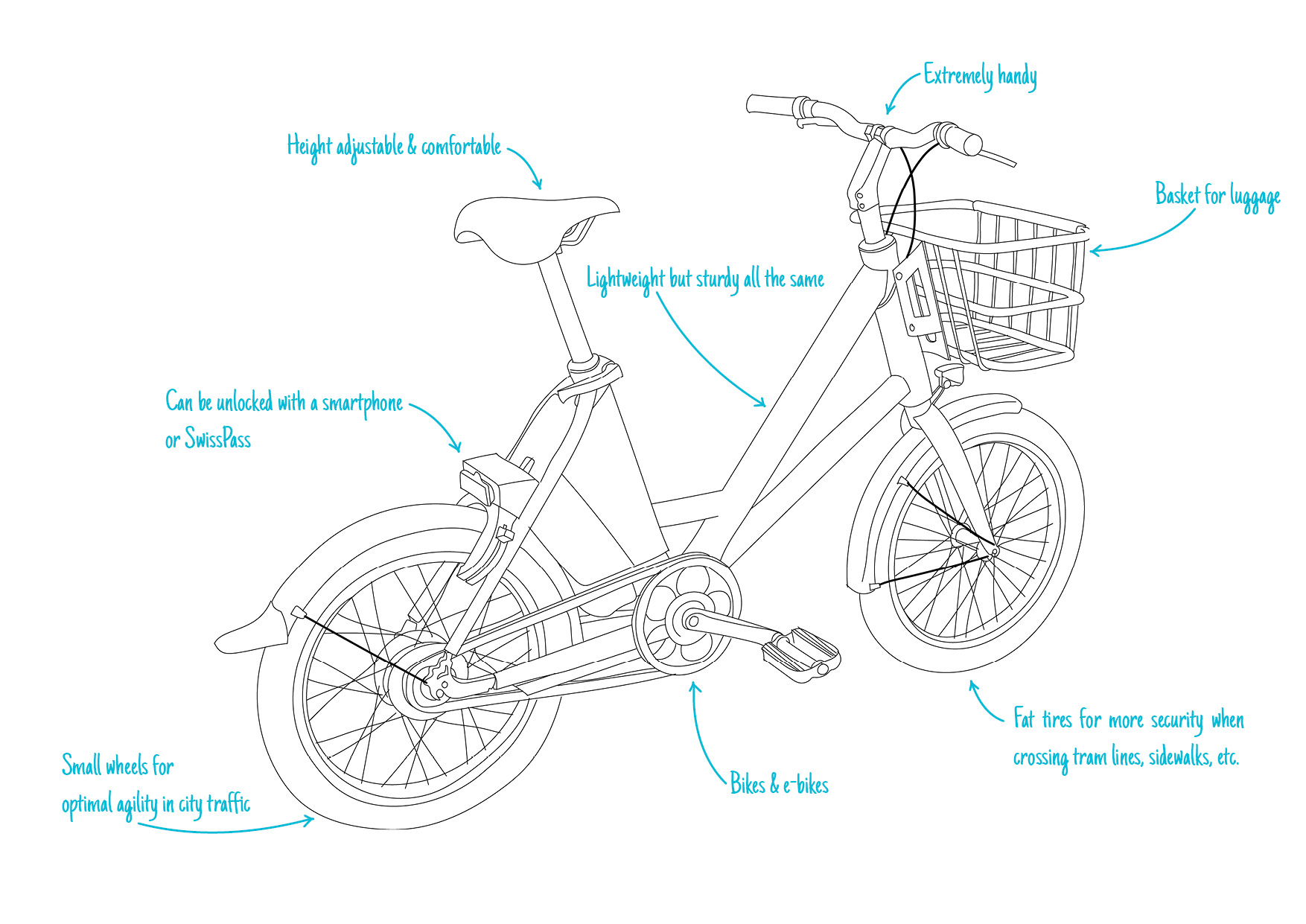 Frame
Our aluminium frames have been specially designed for self-service bikes. The bike features a low standover height combined with a highly stable frame, to ensure safety while riding.
---
Lock
The PubliBike lock serves two purposes: it is a user interface as well as a lock for the bike. It is very simple to open with the PubliBike app or a SwissPass. When making intermediary stops between two stations, the bike can also be secured at any location by closing the lock manually.
---
Basket
The basket allows you to transport an item of everyday hand baggage. Shopping bags, briefcases, computer bags or handbags can be easily transported in the basket, which has a capacity of 12 litres.
---
Brakes
Our bikes are fitted with hydraulic disc brakes (rear and front). They guarantee adequate and easily controllable braking power at all times.
Battery
The capacity of the batteries is 375 Wh – sufficient to ride for about 50 km without recharging. The battery management system protects the rechargeable batteries against overcharging, under-voltage and overheating, to ensure maximum safety.
---
LED lighting
The LED lighting system operates at all times so that you are even visible during the daytime. The system is powered by a dynamo.
---
Tyres
The 20" tyres are a unique design feature of the bike. The small-sized wheels give you a strong sense of safety, ensuring that you enjoy a pleasant ride. Manoeuvrability is excellent – ideally suited to riding in urban environments. The balloon-type puncture-proof tyres guarantee a comfortable ride with excellent stability.
---
Safety
More information about the safety on the bike